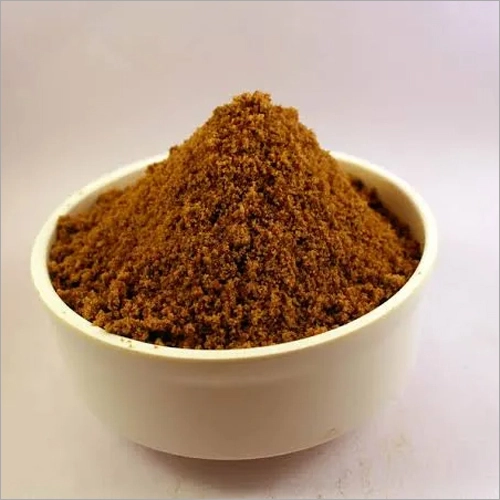 Jaggery is popularly known as gur in Hindi which is a natural sweetener that is extracted from sugar cane. Jaggery is a healthy and natural sweetener alternative that is made by boiling down the juice of sugar cane into a thick syrup. This traditional Indian sweetener can be used to replace sugar in all recipes such as tea, puddings, cakes, cookies, laddoos, and many more. Jaggery is easily available in multiple forms like blocks, balls, syrup, and more but powdered jaggery is extremely popular due to its ease of usage. It has a deep, dark color and a rich molasses-like flavor that can be used to enhance the flavor of many recipes in no time. Once you start developing and liking the flavor of jaggery, it's difficult to go back to white or brown sugar. Jaggery is a great natural alternative to refined sugar since it is less processed and retains essential minerals like iron and other nutrients that are usually stripped away during the refining process.
Having a good amount of Jaggery powder in the kitchen is very essential for many satisfying reasons. You can easily get all the below-mentioned goodness of Jaggery with the added benefit of natural and organic only if you go for a natural jaggery powder exporter in India. Let's explore the benefits of Jaggery powder in detail:
Detoxifies Liver
It acts as a natural cleansing agent for the liver by helping in flushing out harmful toxins from the body. Those suffering from liver disease should start consuming jaggery in their diet.
Boosts immunity
It is rich in antioxidants and other minerals such as zinc, and selenium which helps in fighting against free radicals along with building immunity to fight against various infections and flu-like symptoms. That's the reason most people often consume jaggery during winter.
Healthy source of carbohydrates and energy
Jaggery is a complex carbohydrate that breaks down slowly and releases energy over some time. Not like sugar which is nothing but a simple carb that gets absorbed in the blood instant and gives energy quickly.
Improves digestion
Consuming jaggery with ghee after your meals can do wonders by stimulating bowel movement and releasing digestive enzymes. It acts as a natural laxative which helps in easing out digestive issues like constipation, bloating, and gas. Good gut health always serves as an indicator of overall health.
Prevents anemia
It is a good source of iron and folate that boosts hemoglobin levels in the blood naturally. So pregnant women and adolescents should consume jaggery.
Promotes weight loss
If you are on a weight loss plan and want to curb your sugar cravings healthily then go for a dessert with jaggery powder instead of any other sugar-loaded sweets. It also helps in boosting metabolism which promotes weight loss.
Reduces water retention
Jaggery contains potassium and other essential minerals which helps in managing electrolyte balance in the body and reducing water retention. Water retention in the body leads to weight gain and puffiness, especially during periods, consuming jaggery helps in getting rid of this problem.
The level of average sugar intake in many countries is decreasing with the increased health consciousness and dietary changes by the people. In contrast, the demand for jaggery powder is increasing across the world as these sugar consumers are turning to natural sweeteners for combating health issues. 70% of the world's total jaggery production takes place in India and there are many natural jaggery powder brands available in the market from where you can get a packet of pure jaggery powder for all your basic needs. The jaggery powder from Natural Jaggery Powder Exporter is highly demanded from restaurants, food & beverages industries, and cafés. They offer natural and best-quality jaggery powder in different sizes at competitive prices prevailing in the market.
Conclusion
Buy the best quality jaggery powder from Jaggery powder suppliers in Puducherry as they make jaggery powder from organic sugarcane and vegetable extracts. So, start including natural jaggery powder in your daily food intake and get ready to experience a healthy change in your lifestyle.